06/24/19 – Kansas City, MO – CST Industries, Inc. the world's largest and leading bolted tank and aluminum dome manufacturer was proud to join forces with Conversion Technology, Inc. (CTI), IEP Technologies, Newson-Gale, and The Tennant Company to co-host a seminar on the constantly growing topic of combustible dust hazards, design approaches and retrofit issues on storage equipment on June 18th in San Antonio, Texas. The event had both domestic and international industry professionals in attendance.
"Unfortunately, dust explosions are becoming more common and therefore have gained additional exposure due to the OSHA Combustible Dust National Emphasis Program," said Tom DeDonder, VP of Construction & Services for CST Industries.
"Accidental dust explosions can lead to significant damage in operations and production. Preventing such events from occurring and reducing their magnitude if they happen, requires a good understanding of what combustible dust can do and how it could possibly occur. This co-hosted event enabled us to offer comprehensive educational tools, covering everything from understanding of terminology and regulations, cause/effect in facilities operations, and silo design rules from applicable NFPA guidelines," DeDonder stated.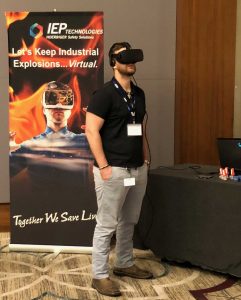 The Occupational Safety and Health Administration (OSHA) as well as the National Fire Protection Association (NFPA) have been expanding and enforcing regulations and standards designed to lessen the potential for disasters in facilities that handle combustible dusts, over the past several decades. In mid-year of 2018 alone, according to the Combustible Dust Report, there were 89 recorded fires and 26 recorded explosion incidents in industries handling combustible dust.
"CST is experienced and positioned to provide comprehensive dust explosion solutions for NFPA 652 compliance in meeting the new regulation for Combustible Dusts," said DeDonder. "Any facility that processes or handles combustible solids or dusts, such as food products, wood, plastics, and metals should take preventative measures in identifying and managing the potential fire and explosion hazards present during normal operations at an industrial facility."
The new combustible dust standard NFPA 652 mandates full compliance by 2020.
CST offers complete one stop services and is committed to providing awareness to its customers, their personnel and operations by hosting additional educational seminars throughout 2020.
For more information on CST's Combustible Dust Testing, please visit us at cstindustries.com.
About CST
CST is the largest dome and storage tank manufacturer in the world. CST's global network includes manufacturing facilities and technical design centers and multiple regional sales offices that are located throughout North America and the United Kingdom. International offices are in Argentina, Australia, Brazil, India, Japan, Mexico, Panama, Singapore, United Kingdom, United Arab Emirates and Vietnam. Currently, more than 350,000 storage tanks and 19,000 covers have been installed in 125 countries throughout the world.
For more information contact:
Kim Mathis
Global Marketing Director
CST Industries, Inc.
kmathis@cstindustries.com