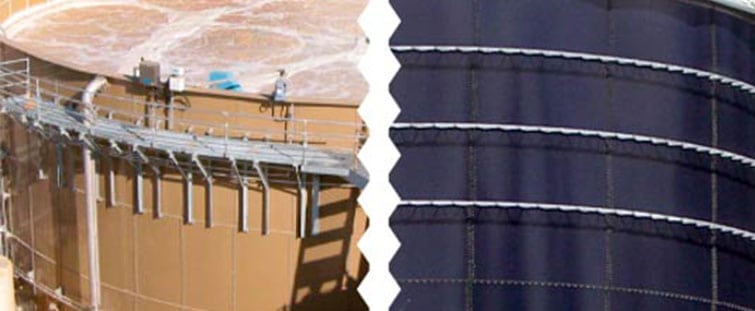 CST is the world's largest bolted steel tank manufacturer for dry bulk and liquid applications.
CST bolted steel tanks are designed for a variety of applications including potable water, wastewater, fire protection, dry bulk and crude oil storage. All storage tanks are designed to specific requirements and to meet a number of industry standards including AWWA D103, NFPA, FM and API-12-B. CST introduced the first bolted steel storage tanks for the petroleum industry and initiated the widely utilized API-12B standard implemented in 1929. The API-12B standard is still featured in CST's TecTank storage systems today.
Every bolted tank is factory engineered to customer specifications. Since all tank panels are manufactured in the factory and easily assembled, CST bolted tanks can be installed in many types of situations where field welded steel and concrete applications cannot. CST and its authorized dealer network have dedicated factory-trained crews who are experts in bolted panel construction. A quality tank is not only coated sheets of steel it is also the expertise applied during construction and the service that follows.
For more information about CST's premier product brands, click the links below:
The company has fabrication facilities located in Parsons, Kansas; Winchester, Tennessee; and DeKalb, Illinois. Its engineering centers of excellence are located in Kansas City, Missouri; Parsons, Kansas; DeKalb, Illinois; and Winchester, Tennessee. CST Storage maintains its headquarters in Kansas City, Missouri.
Featured Projects
Dry Bulk & Liquid Storage Tanks

Architectural Covers

Aluminum Domes, Reservoir & Flat Covers
Innovative Storage Solutions

Dry Bulk Unloading Systems

Industry Leading Covers Solutions

Markets Served