10/21/19 Kansas City, MO – CST Industries, Inc., the world's largest and leading bolted storage tank, aluminum dome and specialty cover manufacturer, announce the global roll out of the CST+ Business System. The CST+ Business System interconnects People, Plans, Processes and Performance to develop the best teams, drive improvement, eliminate waste and differentiate CST from the competition.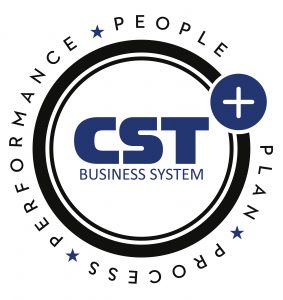 The strong and stable foundation established via CST's ongoing employee's performance programs over the years has continued to flourish and show positive results. To further advance, the company has embarked on implementing the new CST+ Business System to better serve its employees and customers alike, streamlining processes through all aspects of the business.
"I am very excited about our global roll out of the CST+ Business System. CST+ was designed to create scalable business processes, create a common language spoken and understood by the team, engage team members in executing our business strategies, combine continuous improvement activities and breakthroughs to drive superior customer satisfaction and deliver outstanding shareholder return – a win-win for everyone," said Tim Carpenter, CEO of CST Industries.
"As a large global company, it is important to ensure all staff, wherever they are based, are aware of the CST company ethos alongside its business practices and processes. To achieve this the company developed the CST+ Business Process – the heartbeat of our business," said Carpenter. "We are geared to better train and develop our team members on the tools and processes of CST+. Our company culture is a 'people first' approach as we truly believe that we are only as strong as the people that make up CST."
The CST+ Business System remains on track as a part of the company's major strategic initiatives and is staged to make meaningful impacts and improvements for the company. As team members progress through the training curriculum, they will have opportunities to achieve CST+ certifications, lead team events, and broaden their work experience. A series of internal launches will take place over the next several months and into the first quarter of 2020.