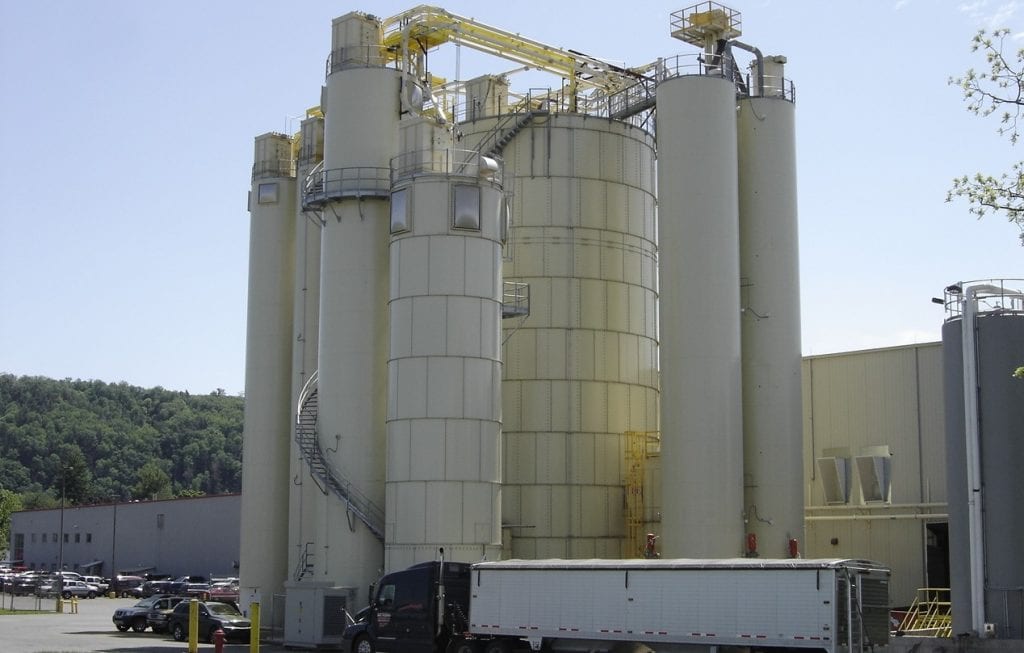 A plastics manufacturer in northeast Pennsylvania uses silos to store polystyrene fluff, which is a dry combustible material. Storing these materials safely is crucial to quality and the bottom line. If the product is not stored properly, an accident can not only destroy a large supply but also risk equipment failure or even worse – endanger the lives of people nearby.
In October 2016, the plant suffered such an incident when the stored polystyrene fluff which contained components of highly flammable ethylene gas ignited, causing an explosion and fire that destroyed the silo.
Needing to find a solution, the company reached out to CST engineer, Matt Sweet and Director of Dry Bulk Sales, Jay Anzelmo for tips on how to prevent silo damage or equipment failure from future explosions. Sweet suggested "explosion relief vents," which are a series of vents near the top of the tank's sidewall that allow the combustible gases to escape and lower the pressure inside the silo.
"Without this release of pressure the silo could deform or fail and potentially cause equipment failure, damage or even injure people. Insurers recognize that you've greatly reduced your risk when you have explosion relief vents on your tanks, so your premiums go down," says Sweet.
"After replacing the destroyed silo with a new silo complete with the venting, the company ordered two more with the venting. Sweet says, it's not only a smart decision from a safety and inventory standpoint, but it also makes good business sense. Protecting your assets is important."
Tank Modification and Replacement Prevention from CST.
CST offers modification services to retrofit existing bolted or welded tanks without full tank replacement. After a customer performs a Dust Hazard Analysis to meet the new NFPA 652 requirement, CST can provide explosion panels that can be field-installed on an existing silo using one of two methods.
1.) Field cutting and drilling openings in the tank sidewall, installing a custom frame and explosion relief vent. Since this can reduce the effective storage capacity, the second alternative is:
2.) Remove existing tank top and increase the height of the tank with a new assembly that includes the required explosion panels as long as there is adequate overhead clearance. This method also has the advantage of a quicker turnaround.
CST can perform either type of retrofit and has extensive engineering and project management resources to guide you through the entire process.
Contact CST today to learn more about Explosion Relief Vents. This type of modification can save Owners/End users at least 50% vs the cost of replacing a silo. Other expenses not factored into replacement cost also include:
• Loss of production
• Inventory management
• Safety
• Environmental concerns
• Reliability
Save Time & Money – Don't get caught with the expensive cost of unplanned downtime. Contact us at 844-44-TANKS.
For more information contact: