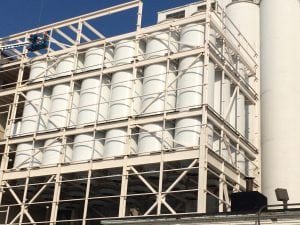 Everyone loves pasta, right? Americans consume one-fourth of the world's pasta, and the average person eats nearly 20 pounds a year.
So it should come as no surprise that semolina is big business. From field to factory to table, companies like Italgrani are working hard to fulfill an insatiable demand. The St. Louis based company sources durum wheat from across the US, Canada and Mexico and transports it by rail to its mill in St. Louis.
In 1980, Italgrani acquired one of the largest grain elevators on the Mississippi and over time has built its operation around that vast storage capacity to become one of the larger millers of durum in the country.
"Most mills have a modest amount of storage, but the grain elevator which has been here since the 30s is a tremendous asset," says Jim Meyer, President of Italgrani USA. "Our company bought the elevator and expanded into milling in the late 80s. Since then we've been continuously expanding and modernizing."
Italgrani is currently undergoing a $37 million expansion, which includes a new mill that will expand capacity by 40 percent. Increased production requires more storage for all that semolina, so Meyer and his team, including plant manager Giovanni Zago, drew up their requirements.
"Besides meeting all of our technical specifications, we wanted a product that was completely functional, long-lasting and durable from a reliable supplier," says Meyer. "Not only was CST competitive within the industry, but their reputation is built on decades of superior performance."
Italgrani already owned 16 CST factory welded silos, so it was familiar with the ease of use and low life-cycle costs of a CST tank.
"The most recent sale had a lot to do with our successful completion of the previous sale and installation," says Bob Baker, president and co-owner of Dynamic Bulk Systems, manufacturer's rep for CST. "We'd been working with Italgrani on a number of materials handling projects and they asked if we could provide the silos for the current expansion. We submitted our bid with CST and earned the business over other competing bids."
CST is the leader in dry bulk and liquid storage systems. With 125 years of experience, CST has produced and installed 350,000 tanks around the world. It makes factory coated steel tanks and fabricates tanks from stainless steel and aluminum. CST dry bulk tanks can be built with flat bottoms, hopper bottoms and with elevated structures. Standard one-piece designs are available up to 85 feet tall by 15 feet in diameter and can be fabricated in a matter of weeks. Custom and multi-piece tanks can also be designed and fabricated in larger sizes.
Italgrani's silos, measuring 10-11 feet in diameter and up to 50 feet tall, were built in CST's Winchester, TN factory and shipped in sequence to St. Louis. No further assembly was required at the construction site, so they could be lifted into place by crane.
"The tank installation is one aspect of a multi-phase development which includes the additional storage capacity of the CST silos in a new storage facility and the expansion of a new production mill building," says Doug Cross, Project Executive at The Striler Group, which managed the logistics of the installation. "The coordination and sequence of the construction and tank installation required that the structure be in place to accommodate the tanks before the roof support structure is installed. All of this is critical for meeting the target dates for occupancy."
In the days and weeks leading up to the installation, Cross was in contact with Donnie Jones and Alfred Midgley at CST, providing updates on construction so each tank shipment would commence at the right time for arrival on the correct date for an error-free installation.
"This project had a very narrow time window and we established in the early planning with CST that an important objective was to avoid double handling, which means if a tank doesn't arrive at the proper time or sequence it has to be set it aside, then returned to later and lifted into place, which is costly for everyone.
Cross adds: "CST and the project team developed a detailed sequence for tank installation and schedule which proved to be very efficient and safe."
Thanks to precise planning, clear communication and frequent progress reports, all 19 tanks were shipped and installed in just five days.
"For me the most anxious moments of a project this size are the deliveries," says Alfred Midgley, CST Regional Sales Manager. "The key is coordination between the project managers, the plant, the freight forwarder and the installation contractor."
Midgley adds: "There was some uncertainty a few days before execution, but all the silos were shipped and installed in the small window of opportunity and everyone performed remarkably."
A hallmark of CST's success is its ability to build and nurture long-term relationships like this one with Dynamic Bulk Systems and Italgrani.
"We stand ready to help our clients find the right solutions for their evolving needs." says Jay Anzelmo, Director of Dry Bulk Sales at CST. "We're proud to earn the distinction as a long-term, strategic advisor for Italgrani in conjunction with our representatives at Dynamic Bulk Systems."
So the next time you dig into a bowl of pasta, thank Italgrani and its partners for handling the grain and milling it into culinary magic.
"When milling capacity is expanded we'll be able to enter new segments of the market," says Meyer. "We'll have the ability to produce slightly different granulations of the product and more bags annually, which will allow us to secure new customers."
---
CST Contact Information:

CST Industries, Inc.
844-44-TANKS
sales@cstindustries.com