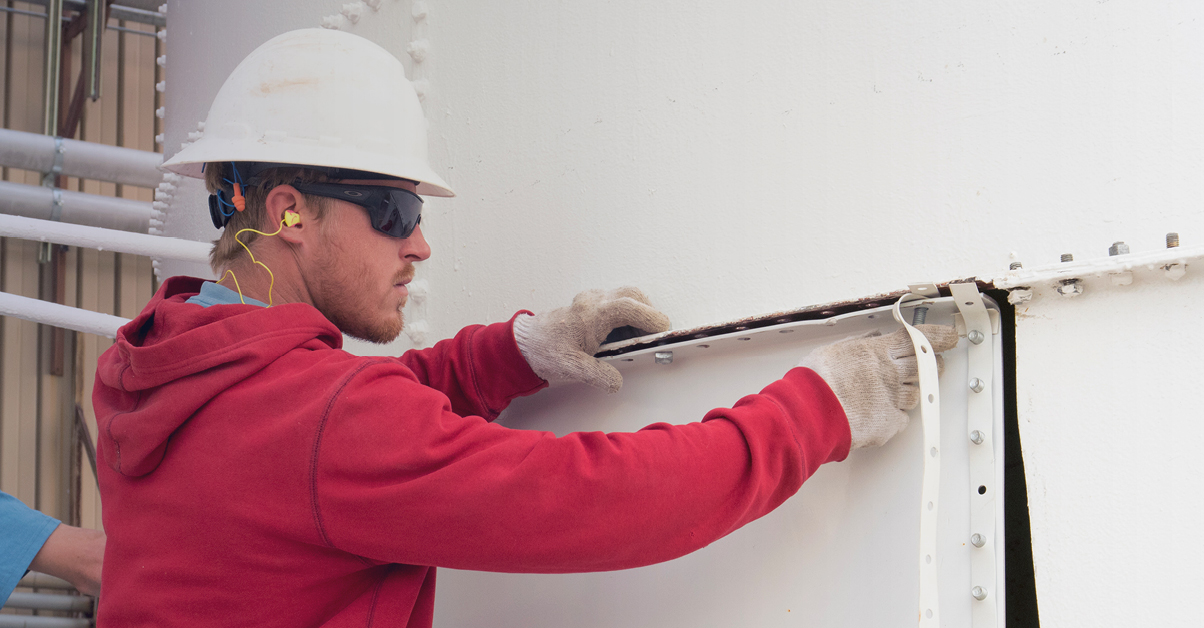 Like all physical assets and equipment, the longevity and safe optimum operation of the tank is based on the condition of the asset. A proactive inspection program can identify several potential hazards, so they can be corrected early with much less downtime and lower cost. When considering the performance of a steel bolted tank, there are three key drivers behind why inspections should be performed:
Identification of metal loss or thinning of steel
There are several factors that contribute to metal loss in a steel tank, such as corrosion or wear from abrasion. Often it is not obvious or visible from the outside of the tank and an internal inspection or ultrasonic thickness (UT) testing may be required. Metal loss or reduced metal thickness may impact the structural integrity of the tank and in many cases can lead to dents, buckling, or bulges in the tank. Metal loss can also lead to holes in the tank which threatens product contamination, reduced product quality or even product loss. Holes also lead to moisture ingress into the tank, which may accelerate corrosion, further reducing the integrity of the hardware or welds. At its most dangerous, substantial metal loss will impact the structural integrity of the entire tank and may lead to catastrophic failure and jeopardize personal safety of employees or other individuals. A proper inspection will identify at-risk areas in your tank to avoid aggressive metal loss.
Poor operational procedures
The performance of your tank relies on proper operational procedures. While that seems obvious, there are often overlooked indicators that the tank is not operating efficiently. Proper venting is the most critical element because a tank needs to maintain the ability to "breath" as product goes in and out of the tank. Pressure relieve valves, bag houses, bin vents or other ventilation equipment that are not properly cleaned or maintained can become plugged up and lead to over-pressure or excess vacuum on a tank during normal operations and deposit product on the roof around the vent. Abnormal pressures can cause structural damage such as cracks in the steel, settlement of the roof, or denting or severe buckling of the sidewall. Ultimately, if not corrected, this may lead to excessive build-up of product on the roof or an accumulation of water which further overloads the tank, and ultimately may lead to structural failure.

Improper flow of the stored product can also cause damage to a steel tank due to sudden changes in internal pressures due to rat-holing, bridging, arching or other abnormal conditions. An indicator of potential flow issues is often hammer marks on the hopper. When product is not flowing out of the tank properly, the tendency is to attempt to knock the material free at the hopper, but this is an indication that your tank is not performing efficiently. The root cause is usually one of two things: the product has a high moisture content and is caking or not flowing properly, or the hopper angle is not sufficient for the product stored in the tank. Proper inspection may identify these operational risks so they can be corrected before they become a problem. However, in some scenarios it may be necessary to consult with a flow expert to correct the problem.
Regulatory requirements
There are three primary drivers for regulatory requirements: regulatory agencies, national codes and local jurisdictions. Many regulatory agencies (OSHA, MSHA, etc.) require that owners inspect and maintain equipment in a safe condition to protect personnel and the community. Codes (NFPA, FM, AWWA, etc.) also have minimum requirements for safe operation and compliance. Finally, in many cases local jurisdictions have adopted similar safety requirements. In all cases, building owners are required to both know and meet the safety regulations related to the proper maintenance of their assets. Regular inspections and maintenance can prevent incidents.
Other reasons
There are other reasons to perform an inspection as well. Some additional considerations include:

To determine the suitability of the tank for continued or expanded service

To determine if a tank is suitable for a change in service (type of product stored, different flow characteristics, etc.)

Determined if a tank should be replaced

Perform Ultrasonic Thickness testing (UT) or other thickness testing to set baseline steel thicknesses
Inspections proactively identify signs of reduced metal thickness or improper operating conditions. With proper and timely inspection and maintenance, your tank will operate safely and you will extend the life of your tank and avoid extensive and expensive rework later. A competent professional will see the warning signs through a thorough visual inspection. Finally, always insist on a documented inspection report including a full summary of the tanks current condition with photographs and recommendations and cost estimates for any maintenance or work the tank may require.
When you have such a valuable and costly investment, there is no reason to allow less reliable sources to compromise your storage tanks integrity. In order to maintain the true integrity of your storage system, it is important to utilize OEM parts and services. As the original equipment manufacturer, we have your best interest, always. Companies like CST have always serviced tanks and domes upon request, but have also advanced their maintenance program to ensure all customers receive OEM-quality parts and services from CST and CST authorized professionals, such as the CST Authorized Dealer Network. Utilizing OEM parts and services significantly simplifies the proper care and maintenance process, because their services will strictly match the quality that you would expect from a competent professional.
CST's elite team of Authorized Dealers are experienced and have a wealth of knowledge from inception to completion of storage tanks. Pricing, budget estimates, project scheduling, inspection and maintenance services are just a few of the areas where CST Authorized Dealers can help.
CST Industries is the complete storage system provider for engineering and manufacturing professionals in thousands of different industries and applications throughout the world. The company is the global leader in the manufacture and construction of factory coated metal storage tanks, aluminum domes and specialty covers.
CST's existing company portfolio consists of CST Storage, CST Covers and Vulcan Tanks. Five manufacturing facilities and technical design centers and multiple regional sales offices are located throughout North America and the United Kingdom. International offices are located in Argentina, Brazil, India, Japan, Mexico, Panama, Singapore, United Kingdom, United Arab Emirates and Vietnam. Currently, more than 350,000 CST tanks have been installed in 125 countries throughout the world.
---
CST Contact Information:

CST Industries, Inc.
Tom DeDonder
VP of Construction Services
913.748.4591
tdedonder@cstindustries.com