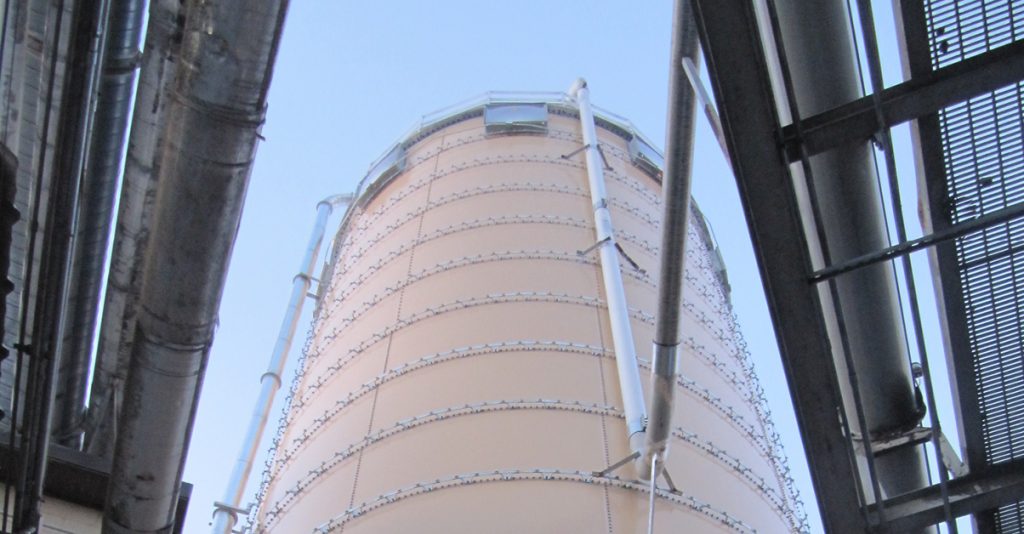 Published in the April 2019 issue of Powder and Bulk Engineering
A central Pennsylvania company, Wood-Mode, pioneered custom cabinetry and has been setting the standard for more than 75 years. Wood-­Mode sources only the highest quality lumber and gets the most out of every raw material.
For example, shavings and sawdust are recycled to produce fuel to heat the factory and offices in the winter months, and the excess is sold to local poultry farmers for bedding. The recycling of these byproducts is a sophisticated process.
Wood-Mode maintains the highest safety standards, which influenced its decision to go with CST for its second silo. CST's licensed professional engineers consider every application, ensuring compliance with industry regulations for capacity, seismic, snow, and wind conditions, stored product parameters, and combustible dust emergency venting (NFPA Standard 68). In this case, CST designed the new silo with special explosion relief vents that allow for the safe release of extreme internal pressure, should a dust explosion occur.
CST also offers modification services to retrofit existing bolted or welded tanks without full tank replacement. The company can walk customers through the process of dust testing and dust hazard analysis, then provide recommendations for deflagration venting and suppression for tanks, bins, and other equipment to ensure it is sufficiently protected against possible dust explosion. This type of modification can save Owners/ End users at least 50% vs the cost of replacing a silo.
"When you're building a quality cabinet and us­ing many types of wood – cherry, mahogany, walnut, oak and maple – you have to maintain very specific conditions," says Carl Webb, Director of Plant Engineering Services at Wood-Mode.
Wood-Mode sells about 4,100 tons of sawdust and shavings a year to local farmers. The material it keeps on hand is not only used to heat the premises but also as fuel for the manufacturing process. There's little margin for error or downtime because the factory needs heat seven days a week in cold months and trucks are loaded five days a week the rest of the year.
With over 350,000 tanks installed in 125 countries, CST has the experience to provide and implement specific solutions where safeguards are needed.