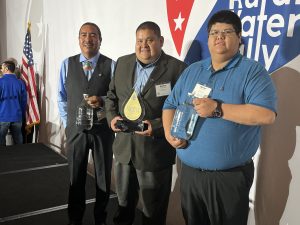 2/20/23 – Kansas City, MO., USA – CST Industries, Inc. (CST™) the world's largest and leading bolted tank and aluminum dome & cover manufacturer was proud to sponsor the 24th Annual Great American Water Taste Test (GAWTT). The national competition was held on February 8, 2023, as part of the National Rural Water Association's (NRWA) Rural Water Rally in Washington D.C. CST would like to congratulate the Pueblo of Zia Community Water System for winning this prestigious industry accolade. This is the first tribal system to win the GAWTT in the history of the competition.
CST, the manufacturer of the iconic AQUASTORE® glass-fused-to-steel storage tanks, was delighted to be a part of the national event by providing commemorative glass etched bottles for the competition. Each state holds its own competition at its annual conference and the winner of the statewide contest moves on to compete in the GAWTT.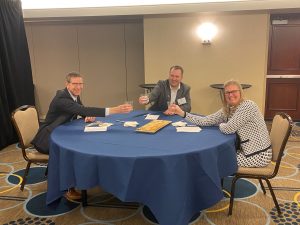 This year 44 rural water systems across the country participated in NRWA's national event for the best-tasting water in America. The top five finalists were judged by a panel of industry experts which included Bruno Pigott, Deputy Administrator, U.S. EPA Office of Water; Steve Polacek, Water Programs Director, USDA Rural Development; Joe Brown, Professional Staff Member; and Lizzy Olson, Counsel for Senator Tammy Duckworth.
"The Rural Water Rally brings America's water professionals together to rally for support in providing our nation with safe, clean drinking water. CST is honored to be a part of such an important event that allows rural water utilities from across the country to be heard by their elected officials," said Matt Gregg, Vice President of CST Industries, Inc.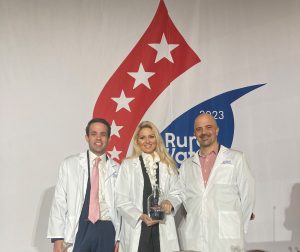 CST's AQUASTORE potable water storage tanks are manufactured exclusively in the USA with only USA steel and are supported by the world's most experienced Local Authorized Dealer Network. With AQUASTORE glass-fused-to-steel tanks, you get the highest engineered quality, best service, longest product life and greatest value available.
For more information on CST's municipal potable water storage tanks, please visit us at cstindustries.com.
About CST
CST is the largest dome and storage tank manufacturer in the world. CST's global network includes manufacturing facilities and technical design centers and multiple regional sales offices that are located throughout North America and the United Kingdom. International offices are in Argentina, Australia, Austria, Brazil, India, Japan, Mexico, Singapore, United Kingdom, United Arab Emirates and Vietnam. Currently, more than 375,000 storage tanks and 20,000 covers have been installed in 125 countries throughout the world.