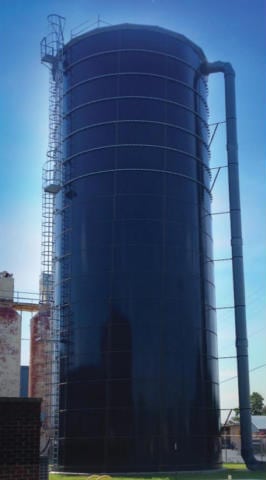 Things have come a long way since the Land Run of 1889, when settlers got their water from three wells: at the train station, south of the train station and in the vicinity of Santa Fe and Main. Today, the city's water comes from a network of six man-made lakes—much of it fed by the North Canadian River and from southeastern Oklahoma.
Out with the Old
The utilities department is mindful of its heritage while it looks to the future. On the outside, some of Oklahoma City's water facilities have a historic elegance, yet what lies inside is state-of-the-art. And while attention is paid to time honored principles like conservation and quality control, city leaders and staff know it takes innovation to meet the challenges of the present and future.
Built in the 1920s, the Overholser water treatment plant on North Pennsylvania Avenue is a monument to the past with a timeless mandate: to supply clean water during periods of high demand, especially the scorching Oklahoma summers. A critical function of the plant is filtration, when the water passes through a sand and carbon filter. To clean the filter, the flow is reversed; the filters are backwashed and the residual material is removed to a settling lagoon.
As the city grew and demand increased, so did the stress on the plant's filtration system. Increased volume meant the filter required more cleaning, but the tank housing the filter was undersized and not equal to the task. "We would get a partial lift on a filter during the backwash process then run out of water," says Larry Hare, civil engineer, City of Oklahoma City. "We'd have to stop down until the tank refilled, making the process inefficient and time consuming."
The Pressure Is On
Hare and his staff had to get Overholser in tip-top shape to pick up the slack due to the drought and the fact that another plant's increased capacity hadn't yet come online. So they met with engineering firm Johnson & Associates, which has consulted with Oklahoma City since 1988 and worked on a number of major design projects including the Bricktown Canal and the Lower Bricktown Entertainment collaborative development. "We were asked to study and design a solution to a backwash system that was outdated," says Peter Borelli, senior engineer at Johnson & Associates. "Among other things, we needed to find a way to improve backwashing pressures which were less than optimal."
Borelli recommended replacing the old tank with an Aquastore® tank from CST and Texas Aquastore. Aquastore tanks are made of glass fused to steel; they're corrosion free and require little or no maintenance.
It Starts and Ends with Storage
Aquastore is the preferred choice for potable water storage and many other liquid applications. More than 100,000 of them have been installed in over 70 countries. The big difference is the factory-applied silica glass coating that forms a hard, inert barrier on both the interior and exterior surfaces to guard against weather and corrosion. Aquastore's features include:
Lowest maintenance requirements over tank life

Greater lifetime value versus welded or concrete tanks

Expandable to meet future requirements

Specific tank designs, options and accessories to meet customer needs
"Ultimately, a decision like this should be based on value and getting the most efficient and sustainable solution for the money," says John Pappalardo, sales and new business manager at Texas Aquastore. "Oklahoma City wisely considered the long-term benefits over short-term savings." Pappalardo advises utilities to ask several important questions when considering the various tanks on the market:
How long will the tank last? Is it a "permanent" solution?

How much maintenance does it require?

Does it need to be repainted?

How is it built?

Is it adaptable? Can it be integrated with existing equipment?
Utilities and other industries are choosing Aquastore tanks for a variety of storage uses because they've come to appreciate what goes into their fabrication:
A panel of high strength low carbon steel is blasted and alkaline cleaned.

The edges of the panel are beveled and then it's sprayed with a stainless steel alloy.

The panel is sprayed with specially formulated slurry that gives it durability, consistency and impermeability. Unlike powder coatings or paint, the slurry is inorganic so it blocks corrosion.

The panel is then fired at temperatures above 1,500° F (815° C) to fuse the porcelain coating and the steel.

Tests are conducted to verify integrity and durability, including high voltage testing to detect discontinuities.
Compared to concrete or welded tanks, glass-fused-to steel tanks are easier to assemble and take far less time to put up. Using a sidewall erection process, the panels are bolted together, forming a ring. When completed, the ring is lifted with jacks so the next ring can be assembled directly underneath. Crews don't have to leave the ground and the whole process takes as little as four feet of space beyond the tank foundation.
"The Aquastore's simplistic design allowed for a straightforward foundation design and installation in a crowded area of the plant where there was limited space to install and bring on line before the old tank could be removed," says Borelli.
More Capacity Equals Faster Filtering
With the new Aquastore tank and its 300,000-gallon capacity, backwashing takes about 15 minutes, with enough water left in the tank to backwash another filter.
"The original tank was old, corroded and didn't have the height or the volume to effectively backwash a filter," says Hare. "The new Aquastore tank was designed to address all of these issues." Hare continues: "We're also looking at a longer lifespan and reduced costs with the Aquastore tank. That's a huge win for the city and its residents."
The Oklahoma City Utilities Department tests the city's water at the three treatment plants every two hours, exceeding the regulatory requirement of every four hours. Residents may not realize it when they turn on the tap, but their water quality is ensured by a leading-edge filtration system and cutting-edge storage solution. That beats hauling a bucket from the train station any day!
---
Benefits of CST's Aquastore® glass-fused-to-steel tanks:
No painting for life of tank

Will not corrode or rust

Lowest total life cycle cost compared to concrete & welded

Turnkey services from approval drawings to tank testing

Faster construction

No need for cranes or other large equipment for construction

Expandable

Interior & exterior easily cleaned

Tank can be easily relocated

Available in diameters from 11 feet (3.3 m) to 204 feet (62.2 m) and capacity from 20,000 gallons (75 cu m) to over 6 million gallons (22,700 cu m)

Specific tank designs, options and accessories to meet customer needs

Industry best warranty

White interior coating

Multiple color options

Authorized network of local Aquastore Dealers for convenient service and support
---
Geodesic aluminium domes are the preferred cover solution for any storage application. Aluminum dome structures are superior to other cover designs of alternate materials due to: Corrosion Resistance, Low Lifetime Maintenance Cost, Clear-Span Capability, Fast and Low Cost Construction and Design Flexibility.
---
Contact Information: