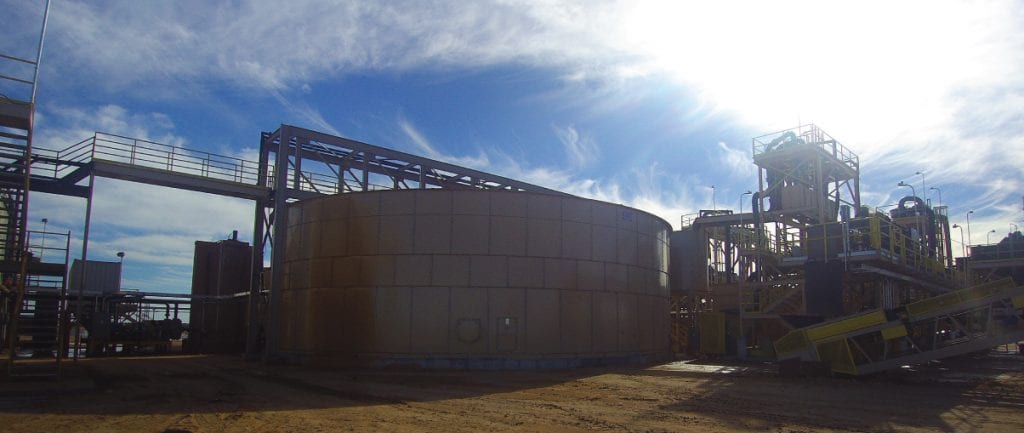 Published in the May/June issue of Shale Water Management Magazine
The US is the world's largest producer of natural gas and oil, thanks in large part to hydraulic fracturing. Water is an indispensible part of the process, because without it there would be no way to produce the slurry that keeps fractures open to allow the release of shale gas so it can flow freely to the pump at the Earth's surface.
From the sand mines to the well to the pipeline, water is the thread that connects it all, and CST is helping ensure water is used and recycled in a way that's responsible and cost effective.
The Process
Sand for fracking is produced in the following steps:
Sand is mined.
Water is mixed with sand.
Sand is classified by coarseness, fineness and other qualities.
Silt and clay are removed, forming a slurry.
Slurry is moved to a clarifier tank, where solids are separated and removed.
Reclaimed water flows to the process water tank.
Water is reused for washing and classification of more sand.
CST supplies TecTank™ bolted steel liquid storage tanks for the water clarifying and storage (steps 5, 6 and 7). Its clients include companies like Process Engineers and Equipment Corporation, which manufacture the systems for sand wash plants that separate the clay and silts from sand and recycle the water.
"One of the objectives is to get the job done with minimal water use," says Rick Howie of Process Engineers and Equipment Corporation. "We think of sand processing as an important part of an environmental assistance program."
Waste treatment of the slurry requires two tanks: a clarifier tank and a water tank. Clay, silts and water are fed into the clarifier tank, where flocculant chemicals are introduced to settle solids at the base of the tank. A rake assembly collects the slurry, which is pumped out. The clean water is collected at the top of the tank through the launder and is discharged into the water tank, where it's pumped away to be reused for washing and classification of more sands.
The Challenge
As petroleum manufacturers identify new deposits of shale gas, frac sand is increasingly being sourced closer to the shale to improve efficiency and lower costs. That means providers of sand processing and recovery systems must be extremely nimble and ready to design, build and launch on demand.
Fracking operations have traditionally used Northern White sand, which is mined in mid-western states (Illinois, Indiana, Iowa, Kansas, Kentucky, Minnesota, Michigan, Missouri, Nebraska and Wisconsin). Northern White is considered superior for fracking because of its uniform size, high quartz content and purity and is shipped by rail to fracking sites across the country. However, shale gas plays in Texas have grown at such a rate that it's no longer cost effective to ship sand from the Upper Midwest. Operators have turned to Texas Brown sand with greater frequency. In fact, Rystad Energy predicts the share of Northern White used in fracking will drop from 75% in 2014 to an expected 34% in 2020.[1]
"Most of these sand classification plants operate for about 20 years," says Howie. "They have to remain active during the entire life of the sand mine. As more types of regional sand is cleared for use you're seeing plants spring up in many new areas so it can be locally sourced, near the gas well."
Add to this the fact that demand for frac sand is dynamic. The amount of sand used in each well has increased 15% over the last 2-3 years.
"Because the delivery expectations of this market are high, we are prepared to work with customers to provide tanks faster," says Matt Bedell, Senior Project Manager at CST Industries. "The key to success is agreeing to expectations as soon as possible so we can disseminate the information through our shop."
Bedell says compressed timeframes are part of the game, and sometimes the information doesn't flow to the factory until all decisions are made, which can eat into CST's project timelines.
"We will be transparent with our schedules so our manufacturing timelines are appropriately integrated with the customer's project schedule," says Bedell. "But it's not always perfect, so in those instances, we work with our internal departments to find ways to support our customer."
The Application
A typical clarifier tank is 100 feet in diameter by 22 feet tall, with a capacity of well over one million gallons. Clarifier tanks are equipped with an effluent launder with adjustable V-notch weir. The water tank is 70 feet in diameter and 20 feet tall, with a capacity of over 500,000 gallons. Standard sizes are available but CST also works with customers to fabricate tanks to specific dimensions to meet their flow rates.
"CST understands the water treatment process and they know our requirements, which means their tanks are extremely adaptable and durable," says Howie. "We ask a lot of these tanks because an ideal operation will process 18,000 gallons a minute for 20 hours a day nonstop. These systems recycle over 90% of the water for future use."
CST's TecTank™ storage systems are coated in TricoBond epoxy coating using the OptiBond™ coating process which delivers outstanding performance and is the industry standard for epoxy durability. They have been used in more than 350,000 field-tested applications in more than 125 countries throughout the world.
"Coatings are the first line of defense in protecting the integrity of your assets," says Bedell. "No other manufacturer comes close to our level of knowledge of how to apply epoxy coatings and how they endure in some of the harshest environments."
Bedell continues, "The customer provides us with its requirements and objectives and we will design a tank to meet their needs. We go through an approval process to ensure our scope of work is understood and agreed by everyone and then move into fabrication at our Parsons, KS plant. Because timelines are sometimes tight, we will work with customers to deliver the tanks faster."
For sand wash plants, CST tanks are assembled from the ground up and sit on a base ring embedded in concrete.
"Most of the end users who buy these systems are also providing the sand used during the hydraulic fracturing process. Our customers need large amounts of water to be recycled to run a safe, clean and efficient facility," says Bedell. "However, we do provide shop welded clarifiers to customers who only need to process a small amount of water."
By all accounts, the demands of the fracking industry will continue to grow, as it is a proven cost-effective way to extract once-inaccessible oil and natural gas deposits. In fact, up to 95 percent of new wells drilled today are hydraulically fractured, accounting for two-thirds of total US natural gas production and about half of US crude oil production.
Howie says the amount of sand used in each well has increased 15% over the last few years, which will create additional demand for his company's systems.

---
[1] Key Highlights and Analysis from the 4th Annual Frac Sand Industry Update Conference, PLG Consulting, February 13, 2019, https://plgconsulting.com/featured-insights/frac-sand-update-2019/