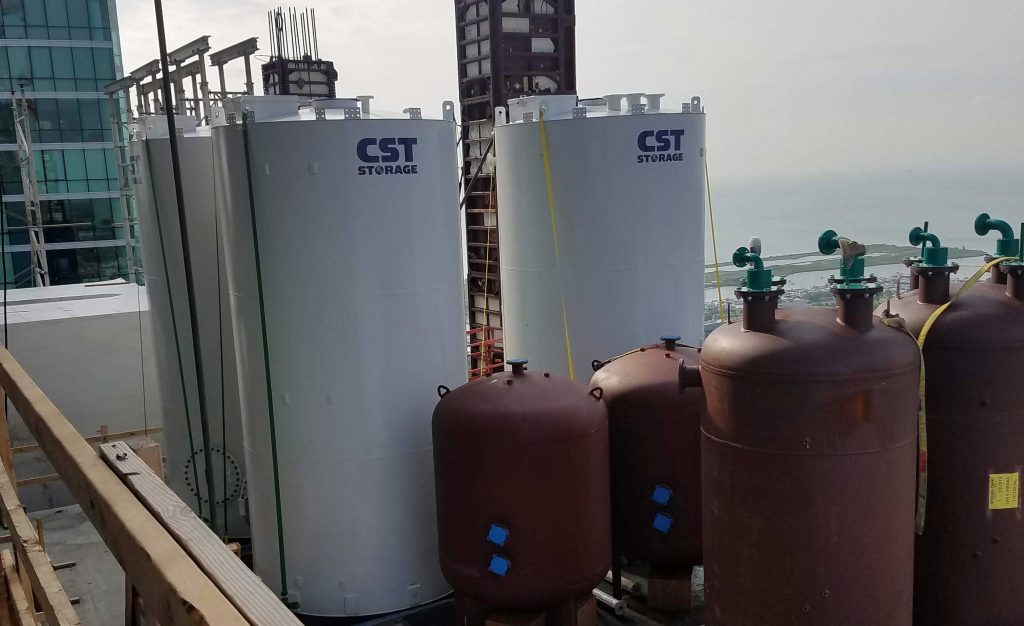 Published in the May 2019 Issue of FPC Magazine
Chicago's iconic skyline has a new occupant. At 76 stories, NEMA is the city's tallest rental residence and an elegant addition to a distinguished architectural legacy.
The signature high-rise property on the southwest corner of Grant Park is designed by world-renowned architect Rafael Viñoly and features floor-to-ceiling windows that offer sweeping views, complemented by impeccable interiors that are "sustainably-crafted and locally-inspired."
In addition to its 800 units or "residences," NEMA boasts 70,000 square feet of amenities like a chef's kitchen, sports bar, fitness center, basketball court, pools and 15,000 square feet of retail space.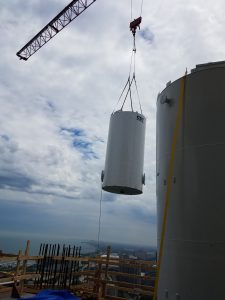 An uncommon property presents unique design and construction challenges, but no challenge is too great in a city that just gets it done. That Midwestern work ethic is evident in NEMA's fire suppression system, delivered by United States Alliance Fire Protection (USAFP), the largest full service fire protection contractor in the Midwest, and CST Industries.
"We supply systems to many tall buildings but very few are this tall," says Matt Johnsen, PE, design engineer at USAFP. "Normally, you feed fire suppression systems from city mains, but in this case water has to be stored on the 48th floor in a very confined space."
Plans called for the storage of 32,000 gallons of water in a 110"x110" area to service the fire suppression system of this signature property from the Crescent Heights real estate firm. Johnsen looked at a variety of tank suppliers and CST emerged with the perfect solution: an array of upright tanks with a small footprint and turnkey capability.
"In older buildings, the tanks are horizontal and take up a lot of space," says Johnsen, "but there's no room for bulky tanks in these contemporary vertical building designs."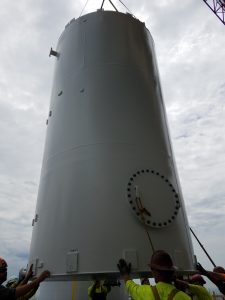 This wasn't a typical installation for USAFP, which normally turns to CST's bolted chime tank for its fire suppression systems. So Johnsen toured the CST's Tennessee factory to observe the fabrication and testing process.
"Matt Bedell and I were in contact quite a bit. I had a lot of questions since it was my first installation where we had to put water tanks this high up in a building," says Johnsen.
CST's TecTank™ welded tank is "plug and play," meaning it arrives at the site ready to install at a moment's notice with minimal labor. Fabrication takes place at the company's facility in Winchester, TN. Once fabricated the tank is cleaned, coated and cured in an oven on a specially designed, controlled processing line. Customer specified components are integrated in the tank and tested before the tank ever ships. When it's time to install, the customer can lift it and set it into place.
"Using our LEAN process, we set expectations at the outset by giving the customer the necessary milestone dates so we can all track the progress of the project," says Matt Bedell, senior project manager at CST. "We stayed in close touch with the customer and spoke regularly to understand exactly what was going on at the construction site and what delays to expect."
CST prides itself on the consistency of its products, but sometimes a project presents a challenge that requires creativity and agility.
"The floors are 12 inches thick and the original proposal called for the tanks to be anchored using a 14-inch bolt," says Johnsen. "I looked at the structural drawings and saw we only had a 12-inch floor, so we went back to CST and asked them to come up with a solution."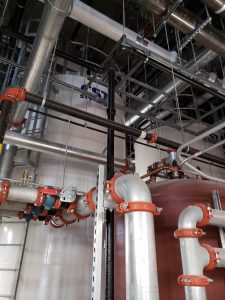 Bedell instructed CST engineers to design a bespoke anchor bolt layout that fit within the floor foundation and didn't exceed six inches. Also, the tanks were specially designed to fit into pre-formed box-outs in the concrete floor.
The only sure thing on a project of this magnitude is that there will be changes and delays. That means every subcontractor has to be flexible and able to deliver at the exact moment they're called upon. Timing and coordination were critical to success and the two Matts worked some magic to ensure the tanks were held in a secure location and could arrive on site ready for installation at the appropriate time.
"The customer had a contact who furnished the location to store the tanks," says Bedell. "We worked with the freight provider and got the tanks in place to meet the customer's request."
Bedell continues, "We're problem solvers. If we can't do something we always try to find other alternatives so we have a win-win outcome."
USAFP had an entire fire protection system to install, so Johnsen appreciated having CST sweat the details so he and his colleagues could keep their eye on the big picture. From design to fabrication to shipping to installation, CST kept things on point with minimal friction, right up to, and through installation.
"We were impressed with CST through the entire process, from design to pre-fabrication to the installation of the tanks," says Johnsen. "It's what we've come to expect from CST and that's why we always give them the opportunity to show us what they can do."
For more information on CST's fire protection storage systems call +1 844-44-TANKs or email sales@cstindustries.com
Property: NEMA Chicago
Address: 1200 S. Indiana Avenue, Chicago
www.rentnemachicago.com
Fire Protection: USAFP
Liquid Storage: CST Industries, Inc.
(4) 9' x 17' 9" liquid welded tanks
8,200-gallon capacity each