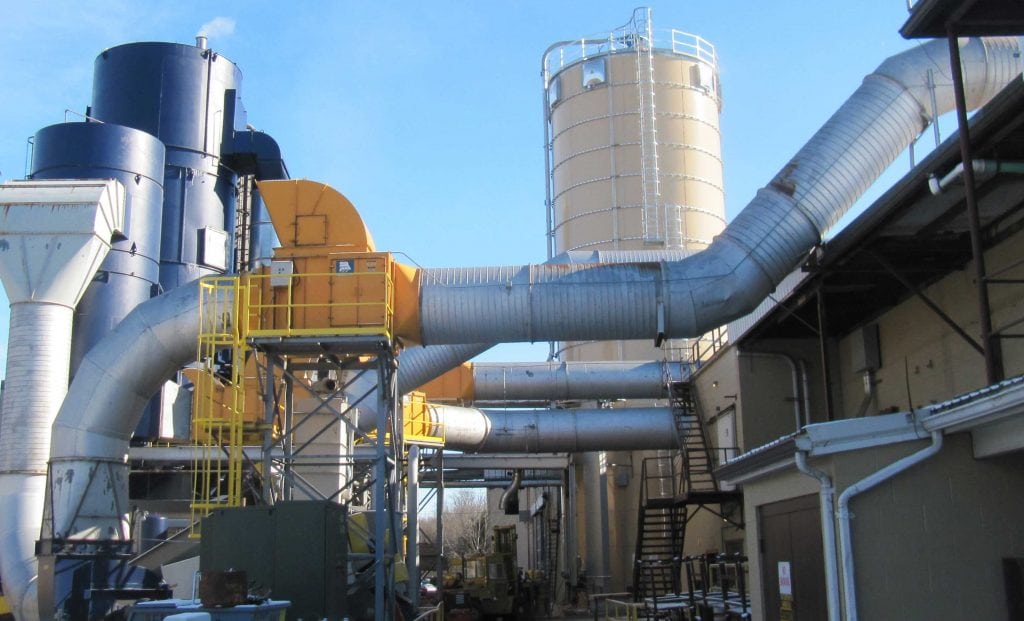 What's in a Kitchen Cabinet? More Than You Think!
Most people would agree the kitchen is the most important room in the house. After all, it's where family and guests always seem to congregate. If you're building a home, you probably invest more in the kitchen than any other room. And nothing seduces a homebuyer like a beautiful kitchen; an elegant bathroom comes in a close second.
A central Pennsylvania company deserves much of the credit for making the kitchen and bathroom a thing of desire and pride. Wood-Mode pretty much invented custom cabinets and has been setting the standard for more than 75 years. An uncompromising commitment to quality workmanship makes Wood-Mode the choice of affluent and discriminating customers; through the years their cabinets have been placed in the kitchens of famous people like George H.W. Bush, Katie Couric and Robert Downey, Jr.
Wood-Mode sources only the highest quality lumber and gets the most out of every raw material. For example, shavings and sawdust are recycled to produce fuel to heat the factory and offices in the winter months, and the excess is sold to local poultry farmers for bedding.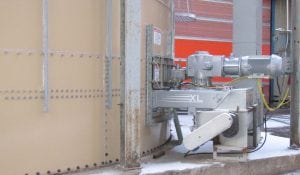 The recycling of these byproducts is a sophisticated process. Wood-Mode stores all its sawdust and shavings in two Harvestore® systems and moves it with a Harvestore XL 400 Unloader™ it purchased from authorized CST dealer Penn Jersey Products.
Wood-Mode and Penn Jersey go back decades, and it's a relationship built on mutual respect and trust. Wood-Mode acquired its first Harvestore system in the 1970s and recently ordered a second Harvestore and new XL Unloader to handle increased volume.
"We had to go bigger because the new XL is two times faster than the old one," says Carl Webb, Director of Plant Engineering Services. "That meant a bigger auger, a faster bucket elevator and a modified trough."
Webb says the new XL Unloader works twice as fast, and sometimes faster.
"When we used to load a tractor-trailer it would take up to two hours, sometimes longer," he says. "Now I allow an hour and fifteen minutes and sometimes we can load in 45 minutes."
Wood-Mode maintains the highest safety standards, which influenced its decision to go with CST and Penn Jersey once again for its second Harvestore. CST's licensed professional engineers give individual consideration to every application, ensuring compliance with industry regulations for capacity, seismic conditions, specific gravity and wind loading and combustible dust (NFPA). In this case, CST designed the new Harvestore with explosion relief vents that allow for the safe release of extreme pressure, should a dust explosion occur.
"We continue to improve to meet our customers' requirements and get the maximum lifespan from a product," says Drew Possessky, General Manager at Penn Jersey Products. "We recently switched to a new chain manufacturer that's more reliable and offers better quality and performance. In the end, the extra expense more than pays off in lower maintenance and service costs."
Wood-Mode sells about 4,100 tons of sawdust and shavings a year to local farmers. The material it keeps on hand is not only used to heat the premises but also as fuel for the manufacturing process.
"When you're building a quality cabinet and using many types of wood – cherry, mahogany, walnut, oak and maple – you have to maintain very specific conditions," says Webb. "We use the steam for humidification and dry our lumber and surface coatings in steam ovens."
There's little margin for error or downtime because the factory needs heat seven days a week in cold months and trucks are loaded five days a week the rest of the year. Keeping this supply chain running smoothly requires precision and reliability, which only the XL Unloader can deliver. Webb appreciates its versatility; he can reduce the speed when the sawdust is being burned for fuel or increase the speed when loading a tractor-trailer.
Customers like Webb also appreciate the fact that the XL Unloader doesn't require constant monitoring – so they can focus on more important tasks. For example, if it encounters a mass or some type of compaction it automatically adjusts speed and works its way through the mass flawlessly.
"The XL Unloader has a load sensor on the arm, which automatically halts the advance motor to avoid overloading the system," says Possessky.
From CST, the world's leader in dry bulk storage and handling, the XL Unloader is accelerating performance, advancing quality and controlling maintenance costs across a variety of industries. Features and differentiators include:
Direct variable speed drive system

More than double the power of previous Goliath and Alliance unloaders

Three phrase motors which can connect with 1-ph or 3-ph power sources using advanced phase inverter control system

Six unloader speeds that can be switched during operation

Direct arm drive system with load sensor

Double the previous chain strength
Specifications of the XL 200 and XL 400:
  XL Unloader Series Technical Data  

XL 200

XL 400

Structure Size
20ft. and 25ft.

(6m and 7m)

25ft., 28ft. and 31ft.

(7m, 8m and 9m)

Trough Size
24in. or 30 in. x 7.5in.

(60cm or 76cm x 19cm)

32in. x 10 in.

(81cm x 25cm)

Motor HP
25
30
Power Supply

230V 1ph or 3ph
460V 3ph
575V 3ph
400 3ph 50hz

230V 1ph or 3ph
460V 3ph
575V 3ph
400V 3ph 50hz

Speed Settings
 6
6
Cutter Chain Strength
70,000 lbf
90,000 lbf
Conveyor Chain Strength
45,000 lbf
90,000 lbf
Programmed Cutter Arm Force
325 lbf
425 lbf
Webb says his XL Unloader has had no breakdowns or major overhauls and his team has been trained by Penn Jersey to perform scheduled maintenance.
"We pull it every so many hours, according to a schedule recommended by Penn Jersey," says Webb. "We open it up, make sure the bearings and wear are ok, make sure the chain is working as it should, lube it, then put it right back in service. We do minor repairs and occasionally replace bearings and worn teeth."
He adds: "We're pretty self-sufficient, but if there's a problem we can't solve they'll come running. And they keep a large inventory of parts in case we need something quickly."
As an authorized dealer, Penn Jersey stocks only CST parts, which guarantees customers are back up and running at the same level of performance, just like before.
"A lot of suppliers are using aftermarket service and parts, which often fall short," says Possessky of Penn Jersey. "Only an authorized CST dealer can deliver an exceptional level of performance and service, and only the CST parts can guarantee a precision fit and quality."
When it comes to unloaders, farmers aren't the only ones looking for higher performance plus lower maintenance and operating costs.
"Most people associate silos and unloaders with agricultural processes," says Possessky. "But our partners at Wood-Mode have shown that they also have practical applications for manufacturing."
---
CST Contact Information:

CST Industries, Inc.
844-44-TANKS
sales@cstindustries.com

Penn Jersey Products, Inc.
Drew Possessky
General Manager
717-354-4051
dpossessky@pennjerseyproducts.com